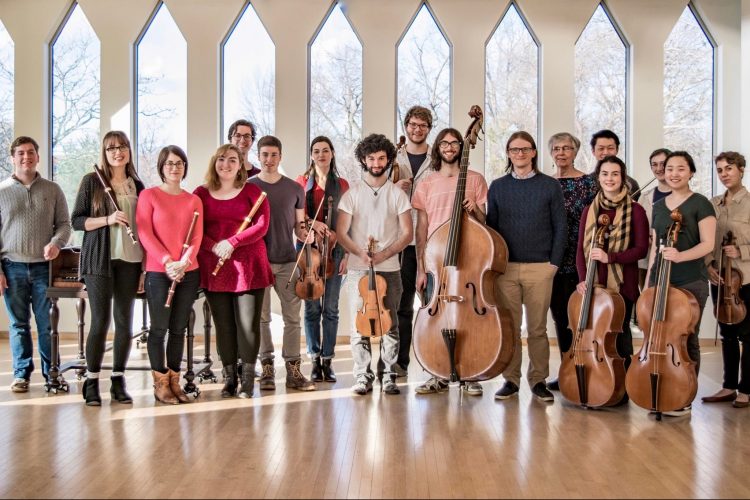 Oberlin Baroque (representing Oberlin College and Conservatory) will perform at 3:00pm EDT on Wednesday, May 22, 2019 at Trinity Episcopal Church as part of Early Music America's Young Performers Festival during the Bloomington Early Music Festival. The concert will also be streamed live via EMA's Facebook page.
Created in 1986, Oberlin's Historical Performance Program is one of the oldest in the country, but their commitment to the field goes back to the founding of the Baroque Performance Institute (BPI) which has taken place every summer since 1972. Oberlin's concert program's performances will be drawn from Oberlin's Baroque Ensemble program–small, coached ensembles that perform once or twice per semester–and from the Oberlin Baroque Orchestra, which has an intensive (6 hours/week) rehearsal schedule for a four-week period each semester. Some of the instrumentalists are majors in Oberlin's Historical Performance program; others are taking secondary lessons on a historical instrument.
---
2019 Festival Program
Paris and Beyond
This program features music by some of Baroque Europe's most cosmopolitan composers, including a Telemann Paris Quartet. This concert is an outgrowth of our Baroque Ensemble program. We hope this performance will show the breadth of repertoire our students work with on a regular basis.
Sonata Prima – Dario Castello (1602-1631)
Fantasie à 4 – William Byrd (1539/40-1623)
Passacaglia in d – Johann Caspar Kerll (1627-1693)
Sonata in g, QV 2:35 – Johann Joachim Quantz (1697-1773)
Sonata in e, BWV 1034 – J.S. Bach (1685-1750)
Suite for 3 viols in D major, Livre IV – Marin Marais (1656-1728)
Deuxième recreation de musique, op. 8 – Jean-Marie Leclair (1697-1764)