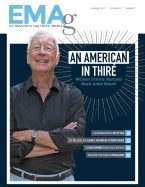 ON THE COVER:
Was it coincidence that in 1979, when 
William Christie
 chose a name for his newly formed Paris-based Baroque ensemble, he found one that made reference to flowers,
 Les Arts Florissants
? Deliberately or not, the moniker foretold the marvelous estate that has become the conductor's primary home and haven, where he has hosted thousands of visitors for days of Baroque music and the pleasures of the garden. I spent three enchanting days in August 2016 at the beginning of the eight-day festival, the fifth edition of Dans les Jardins de William Christie in Thiré, France.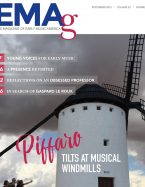 ON THE COVER: Once pointed out, it is impossible to miss how thoroughly song saturates Don Quixote. There are well over 20 references to specific songs in the novel, from off-hand quotes of phrases or lines to entire episodes narrated through old ballads, or romances. It's a pity that so few of them survive.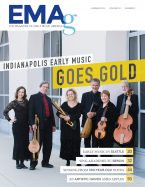 ON THE COVER: "If music be the food of love, play on," begins the most famous opening speech in Shakespeare. The line also supplies the title for the concert that will launch the 50th-anniversary season of Indianapolis Early Music's Early Music Festival.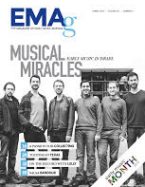 ON THE COVER: "A recent press trip to Israel piqued my interest in that fascinating country's early-music scene. Israel is at once ancient and new, like so much of what we are trying to do in our field, and I was curious about the history of the early-music revival, the active and retired performers and teachers, and the challenges facing musicians and presenters today."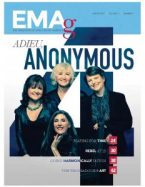 ON THE COVER: What is it someone once said about all good things? The same happens to bad things, thank goodness. In the case of Anonymous 4, however, there is a decidedly happy ending. After nearly three decades, the a cappella quartet with some of the purest tones in the vocal business is ready to bid the world a fond farewell.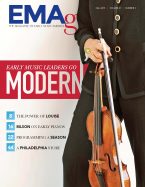 ON THE COVER: There was a time, not so long ago, when modern performers tended to be wary of the early-music movement. Often, these two musical communities stood with their backs to each other, separated by a chilly silence. And occasionally a war of words would erupt. The violinist and conductor Pinchas Zukerman famously dismissed the early-music movement as "an aberration" and "a fad."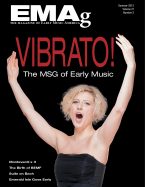 ON THE COVER: Eliminating vibrato, along with playing on gut strings, was the most noticeable mark of historically informed performance style. Before it was even called HIP, employing "authentic instruments" set early-music players apart from symphony orchestras, and singing with a pristine, boy-like sound marked a new vocal coloring.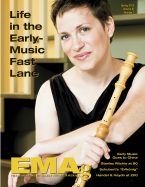 ON THE COVER: "I play period oboes and recorders and have a second specialty in 15th-century music. As period players, we're specialists by definition, yet we may e called upon to play or sing music from anywhere between 1100-1850. For a wind player, this means maintaining skills and associated equipment for seven to fifteen instruments."
ON THE COVER: Hans-Joachim Ketelsen sings Beckmesser's mastersong in Act 3 of the Metropolitan Opera production of Wagner's Die Meistersinger von Nürnberg in 2007. Photo by Beatriz Schiller, Metropolitan Opera.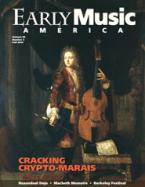 ON THE COVER: Portrait of Marin Marais (with manuscript of his Prelude in D Minor, No. 3, from his Premier livre) by Jean Dieu dit Saint-Jean (1654-1695). Musée des Beaux-Arts, Blois, France. © RMNGrand Palais / Art Resource, NY