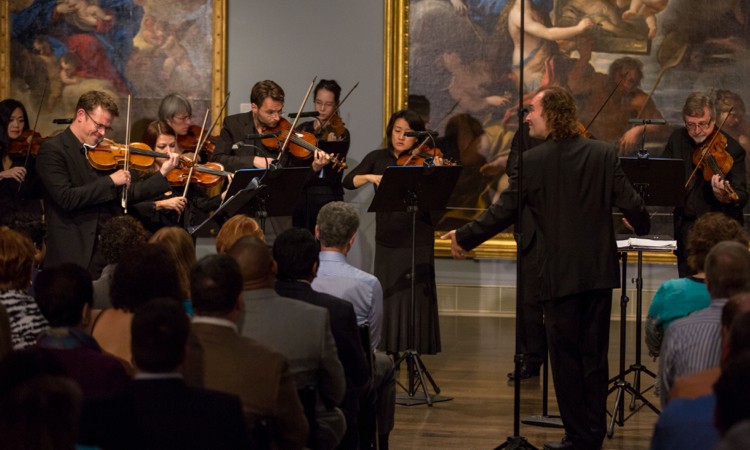 By Jeremy Reynolds
HOUSTON — Five years ago, the directors of the four major historical performance ensembles in Houston realized they each had a concert scheduled during a single week in February. And so the Houston Early Music Festival (HEMF) was born.
This year, five groups are sponsoring and participating in the festival: Ars Lyrica Houston, Bach Society Houston, Houston Early Music, Mercury, and the Piping Rock Singers. Each organization specializes in a different area of historical performance, and all have concerts between Feb. 11 and 19 in local churches and concert halls. The festival has grown from its early days to include not only performances, but also master classes, a colloquium, and a multimedia collaboration with the Museum of Fine Arts, Houston.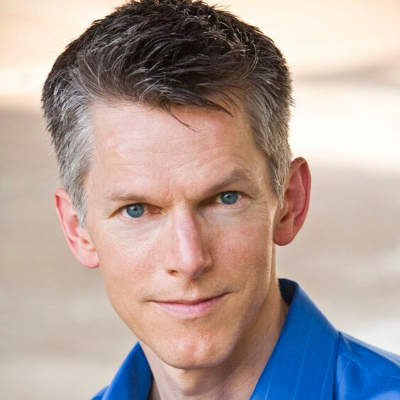 Matthew Dirst, director of Ars Lyrica Houston, a period-instrument ensemble specializing in music from the 17th and 18th centuries, was heavily involved in the festival's initial run. He remains a key figure in the city's early-music scene.
"This is a dream of many years for several of us in Houston, and it's nice to be finally putting on an annual festival to draw attention to the period-instrument scene here," Dirst said. "These organizations have enthusiastic followings, and first and foremost it's about cross-pollination for the four distinct audiences in town — to make each audience aware of what the other organization is doing."
When Dirst arrived in the city in the mid-90s, there wasn't much going on early music-wise. Houston had a couple of amateur performance groups, including the Houston Harpsichord Society, which became a concert sponsor and evolved into Houston Early Music. The Bach Society was founded in 1983 and has similarly grown into a cultural bastion, an essential part of Houston's musical landscape. Both Ars Lyrica and the chamber orchestra Mercury emerged in the new millennium (2002 and 2003, respectively), and the fifth sponsor, the Piping Rock Singers — which focuses on medieval and Renaissance vocal music — has remained a quasi-professional ensemble since its start in the mid-'90s.
Christopher Holman, the Bach Society's music associate, spearheaded this year's festival and has handled many of the administrative details involved in the five-group partnership. He credits Houston's burgeoning early-music scene to the city's economic success.
"We have a lot of people who come through the oil companies and the energy companies who are really passionate about art and are willing to support it," said organist-harpsichordist Holman. "From the beginning [of the festival], the groups have tried to do more and more substantial projects during that period, of course to celebrate the festival, but also with the idea of bringing people into Houston to hear all this great music that's happening with one of the newest early-music scenes."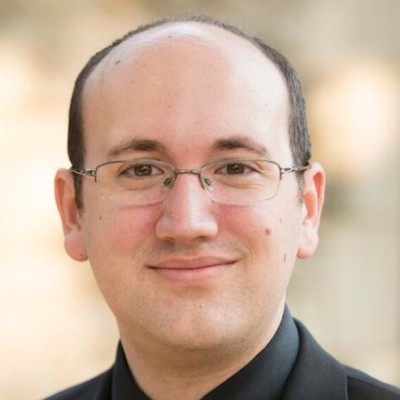 Of this year's offerings, Holman said the educational and outreach activities are of particular note. Houston Early Music will present a master class with noted soprano Sherezade Panthaki. She will also perform as a soloist during Ars Lyrica Houston's festival performance, "Scalable Heights," a concert of virtuosic music from the high Baroque. Additionally, students from the city's two major universities, Rice University and the University of Houston, will participate in a colloquium and a complete performance of Bach's Little Organ Book, while the other Bach program on the festival features Bach Society Houston in "Bach Family Motets." Plenty of Bach to go around.
The Piping Rock Singers, first invited to take part in the festival in 2015, will give a concert of Renaissance music titled "Madrigals, Motets and Merryment" centered around Orlando Gibbons' The Cries of London and Richard Dering's The City Cries and The Country Cries. "I'm coupling those pieces with a few motets that are similarly done with a descriptive or programmatic madrigal style," said music director Kevin Clarke. "For example, we're coupling The Cries of London with [Dering's] Factum est Silentium, which is a sort of programmatic piece for St. Michael's Day that talks about Michael slaying the dragon."
The previous two Piping Rock Singers performances during HEMF were styled as Renaissance dinner entertainment, and while this year's concert will be a more formal affair, it also will include a banquet. Clarke, who's been at the organization's helm for three years, said the ensemble used to dress in period costumes for certain performances, but that practice has largely died out as he's worked to raise the group to a more professional level.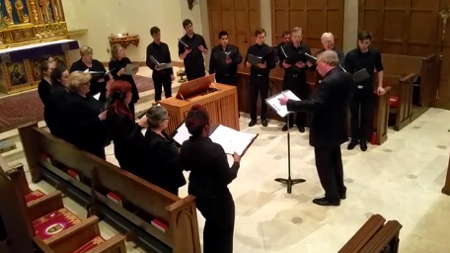 "Everybody wonders how we got the name," Clarke said. "It's because the original group met on Piping Rock Road, but it's probably time to change because the whole group has turned over. The last couple of years we've put together a really good group of singers of all ages, some just out of school, some may even be in school still."
Another vocal ensemble, the Israeli-founded, Swiss-based Profeti della Quinta, will make its Houston debut singing selections by 16th-century Italian-Jewish composer Salamone Rossi, whose music is featured on two of the group's studio recordings. Founding member Elam Rotem said the group had traveled to Mantua, where Rossi lived and worked, to try to better understand "the lost Salamone Rossi."
"There are really very little surviving materials, but he's really a very interesting figure," Rotem said. "He was, first of all, Jewish. But in spite of being Jewish, he was highly integrated in the cultural environment of the Christian rulers, and he had special privileges as a Jewish person. For example, he was allowed to go around the ghetto even after closing time, and he was allowed to go around the ghetto without the yellow sign that other Jewish people had to walk around with."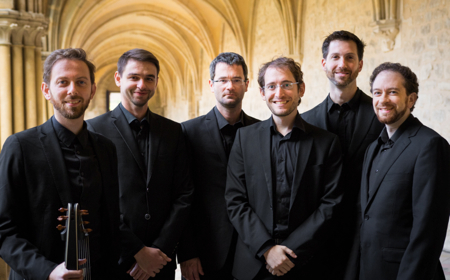 Rossi composed both secular music and music for the synagogue and introduced Western styles into the Jewish liturgy, a fusion Rotem terms "revolutionary." The ensemble's HEMF program is titled "Il Mantovano Hebreo" (The Mantuan Jew) and features some of Rotem's own compositions. Profeti will sing music in both Rossi's secular and synagogue styles to showcase the duality of his compositions. A documentary about Rossi featuring Profeti will screen before the show to introduce listeners to the composer's history.
Profeti's isn't the only concert to use a screen. Mercury will perform Rameau's Les Indes galantes in partnership with the Museum of Fine Arts, Houston. As the orchestra performs, various paintings, sculptures, and objects from the museum's collection will be projected behind the orchestra. Mercury founder and artistic director Antoine Plante said Mercury is committed to partnering with other arts organizations, musical or otherwise. The ensemble has strong ties with multiple dance organizations around the city and regularly employs the Houston Symphony Chorus in its operatic productions. Mercury performs at the Museum of Fine Arts, Houston three times annually as a part of the group's neighborhood outreach series.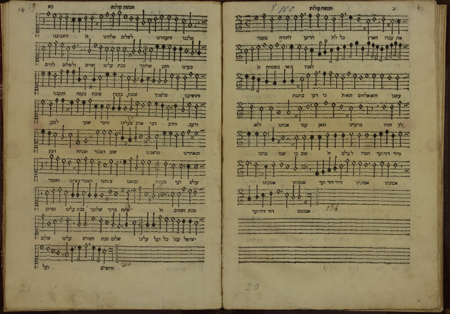 "I'm really glad at Mercury we are using multimedia, and I'm really excited about providing that to the audience and the musicians and to the industry at large," Plante said. "I think there's less technological multimedia in the Baroque performance world than, say, the symphonic world, but Mercury's artistic leadership is very interested in exploring ways to incorporate this in our performances, and our audience has responded well to that."
One of the museum's curators is spearheading the selection process, and while Plante didn't share details about what art will appear, he said the projected artwork will fit into the two overarching themes of Rameau's opera: a return to ideals of romantic love and the idea of exoticism.
"The first act is about all these kings of Europe realizing they have lost the way to love well, and so they turn to these different — in a way — more primitive cultures," Plante said. "But these cultures are closer to nature, and hence they know how to love better. So that's the big concept."
The following four acts detail four different love stories set in four different cultures: Turkey, Peru, Persia, and Quebec. The music changes to reflect each culture, but as is often the case in artistic expressions of exoticism and otherness, the sounds are mere impressions of foreign rather than actual examples.
Plante said he and colleagues are working to find in the museum's collection "the right tools that will invoke either a beautiful moment or specific cultural contributions that will make this music more real."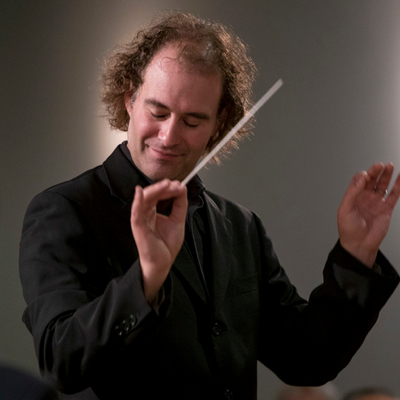 Concerning HEMF's future, the leading figures in the city's early-music scene have ideas and hopes, but they're taking things one year at a time. "Where we're headed is a difficult question to answer, because we're in the process of asking ourselves that internally," Plante said. "There's lots of opportunities to build in one way or the other."
The ensembles will begin programming joint concerts next year, starting with Ars Lyrica Houston and the Bach Society. And though the festival's democratic, collaborative nature has been successful to date, the Bach Society's Holman said he'd like to see more centralized leadership. He's unconcerned about a timeline.
"We have talked about establishing [the festival] as a 501(c)3, but we don't have any plans to do so at this point because the collaboration does work," Holman said. "One of the amazing things about Houston is that all the groups are close friends. Every scene uses many of the same people, maybe the same artists, but in Houston, there's a true collegiality that I haven't seen anywhere else to such a big extent."
Dirst, Clarke, and Plante all agreed, and each voiced excitement for the festival's coming years. "The collaborative aspect is fantastic because we just get to work together with our colleagues to try and make Houston a better place to be and showcase our strength in early music," said Plante. "People in the community are realizing that what we have here is really something quite special."
Festival passes give patrons access to all HEMF events. Information about performance dates, season passes, and individual tickets is available here.
Jeremy Reynolds is press and publications manager at the Fort Worth Symphony Orchestra. He has written about music for ClevelandClassical.com, Symphony Magazine, Charleston's Post and Courier, and other publications.