by Andrew J. Sammut
Published June 15, 2020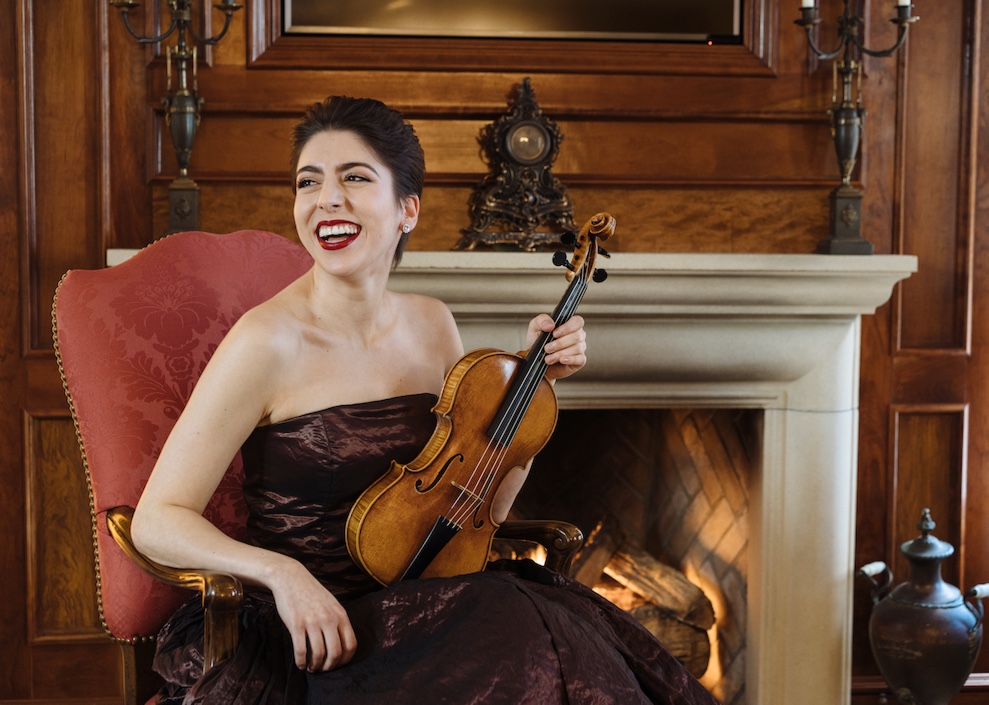 Brillance Indéniable: The Virtuoso Violin in the Court of Louis XV – Sonatas and Symphonies by Louis-Gabriel Guillemain. Alana Youssefian, violin; Le Bien-Aimé. Avie AV2412
Many famous musicians become historical footnotes. It's unfortunate but common. Still, the story of violinist and composer Louis-Gabriel Guillemain (1705–1770) seems especially sad.
Born in Paris, early musical aptitude gained him a place studying in Turin under the renowned violinist Giovanni Battista Somis, a student of Corelli and teacher of Guillemain's fellow countryman Leclair and other French star violinists. After reaching choice appointments in Lyon and Dijon, Guillemain returned to Paris to work for Louis XV. His gifts as a performer and composer eventually earned him a high salary and the king's ear.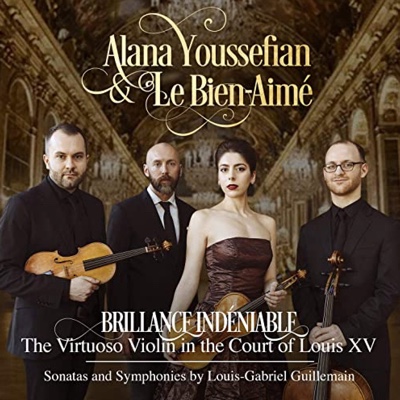 Guillemain was privileged to give private performances for the royal couple but was often too nervous to play for large audiences. Music from the 18 collections of his music published in his lifetime still made it into aristocratic homes and onstage at the popular Concert Spirituel. Talent and success notwithstanding, his expensive tastes, alcoholism, and depression drove Guillemain to debt and suicide well before time reduced him to obscurity.
Guillemain focused on instrumental chamber works that included violin sonatas, trios, quartets with continuo, and music for unaccompanied violins. Some of his work was aimed at well-trained amateur musicians seeking convivial domestic musicmaking. Other works, especially the sonatas, are technically challenging, as well as emotionally bold. Guillemain had a knack for combining French grace and Italian energy in his unique way. For her recorded debut, American violinist Alana Youssefian selects works from Guillemain's virtuosic Opus 1 sonatas and comparatively lighthearted trio symphonies to show both sides of the composer.
Youssefian's sensitive pacing and utter poise bring out the refined gestures as well as fire of this music. Each phrase has its own character in the unbuttoned finale of the Violin Sonata in B minor, Op. 1, No. 3. Seamless register jumps and lyrical but intense double stops turn the opening movement of the Violin Sonata in C minor, Op. 1, No. 8, into a wordless vengeance aria.  The first part of the double movement Violin Sonata in E Flat, Op. 1, No. 6, is a lush Corellian theme with a touch of French frilliness. The violinist adds her rich tone and detailed phrasing at a gentle step.
Youssefian has facility as well as style to spare in the sonatas, as well as in the symphonies dans le goût italien en trio. These "trio symphonies in the Italian style" for two violins and continuo feature novel and exciting contrasts between solo, concertante, duet, and tutti. With Youssefian and the sympathetic continuo team of cellist Matt Zucker and harpsichordist Michael Sponseller joined by violinist Stephen Goist, the quartet teases out every textural and structural nuance. These works were written to allow expansion into orchestral arrangements, but this group makes that option superfluous. Clear part separation and imaginative dynamics reinforce the dramatic and at times Vivaldian cascades, for example in the finale of the Symphony in G, Op. 14, No. 6.
Softer moments resembling standard Baroque trio sonatas, like the middle movement of that symphony, benefit from the violinists' differentiated tones and the ensemble's unified feeling. The Symphony in G major, Op. 6, No. 1, starts with the two violins breathing as one in a bright sheen. Youssefian then emerges as soloist with a slightly darker sound and finely etched ornaments. The buttery pizzicato cello adds still another color.
There are maybe less than a dozen albums that include Guillemain's music in the catalog. Far fewer feature his music exclusively. Yet this disc goes beyond simply filling in the record. Given Youssefian's impressive recorded debut as well as live performances, hopefully there will be more opportunities for the violinist to share her brilliant sound and insight into lesser-known music.
Andrew J. Sammut has written about Baroque music and hot jazz for All About Jazz, Boston Classical Review, The Boston Musical Intelligencer, Early Music America, the IAJRC Journal, and his own blog. He also works as a freelance copy editor and writer and lives in Cambridge, MA, with his wife and dog.
Recent EMA Recording & Book Reviews
People who love Wagner operas can separate his music from his toxic beliefs. Yet J.S. Bach's 'superlative ability to move listeners' and status as 'a pinnacle of Western art' brushes aside the composer's harsh theology and often intolerant personal philosophy. In this collection of essays, Bach scholar Michael Marissen warns us to 'not soften or assimilate this figure to our own preferences, no matter how much we find inspiration, solace, or transcendence in his art.'
Trumpet soloist Josh Cohen and Ensemble Sprezzatura bring together regal flair and expressive grace with 'Altissima,' exploring the varied colors and dimensions of the high Baroque trumpet. The recording makes an ideal introduction to myriad trumpeting styles through mostly unfamiliar repertoire.
Billed as the first recording on period instruments, violinist Aleksandra Kwiatowska and fortepianist Andres Muskens offer strong performances of Louise Farrenc's complete music for violin and keyboard.