by Wanda Yang Temko
Published April 4, 2022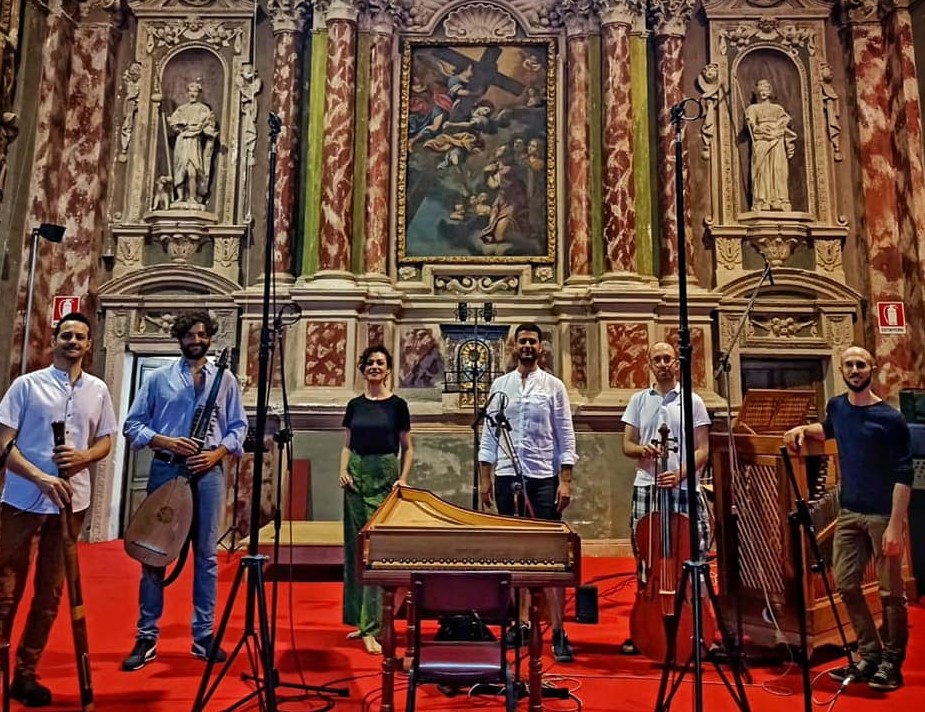 Vivaldi Cantate per Soprano I. Soprano Arianna Vendittelli, with Abchordis Ensemble, led by Andrea Buccarella. Naïve OP7257
Vivaldi: Cantate per soprano I is the first of two volumes dedicated to Vivaldi's chamber cantatas for soprano, part of Naïve's colossal Vivaldi Edition—already at 68 CDs and counting. This new recording of six cantatas, composed between 1718 and 1735, reveals the depth of Vivaldi's ingenious ability to shape moods, timbres, and emotions. Italian soprano Arianna Vendittelli and Abchordis Ensemble, led by Andrea Buccarella, have imbued this music about love with their own sense of drama, daring, and intimacy.
Vivaldi wrote over 30 cantatas for soprano and basso continuo, designed for the smaller spaces of salons and drawing rooms. Yet these cantatas are like miniature operas, with alternating arias and recitatives creating a scene or tableau. Buccarella created three different instrumental combinations from an ensemble of harpsichord, archlute, guitar, cello, bassoon, and organ—a kaleidoscope of colors with just a few instruments. Pairing cello with bassoon adds warmth while using guitar instead of harpsichord offers an intriguing timbre to the basso continuo.
The singer Vivaldi envisioned for these works needs an extensive vocal range and expert facility in spinning legato lines and fierce coloratura. Melodies are filled with wide leaps—soaring high notes quickly followed by pitches around middle C, where sopranos typically have a difficult time mixing in chest voice. The soprano must be able to access a spectrum of emotional color, moods, and technique.
Vendittelli is such a singer.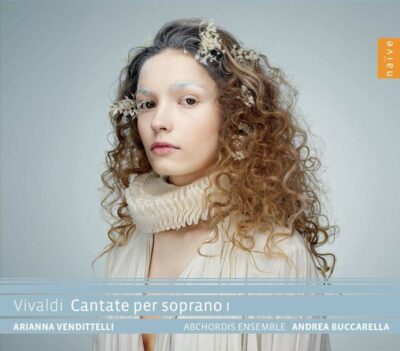 In 18th-century Baroque opera, arias embodied the concept of affekt, music's ability to arouse emotions. Joy is often expressed by large intervals and sadness by small intervals. Love-as-tormenter is the affekt of "Allor che lo sguardo" ("As I fixed my gaze"). Here Vendittelli shifts from a warm, dolce tone to a bright, silvery color when she accuses her love, asking "Perché saettarmi" ("Why did you pierce my heart?"). Andrea Buccarella and Abchordis Ensemble create a rich sonority in this aria to undergird her pain.
In the liner notes, Vendittelli tells us her favorite cantata is "Aure voi non più siete," where the shepherd confides his love to the river. She colors the line "Questi sospiri miei a lei portate" ("Bring her these sighs of mine") with such delicate breathless transparency, and Buccarella allows the harpsichord to fade into nothingness before the cadence. It's a stunning moment.
The opening recitative is followed by the aria "Ti confide il pianto mio" ("I entrust my tears to you"), where the guitar acts as tears falling from the shepherd's eyes into the river. Embellishments in the da capo of the aria intensifies the melancholy.  No empty virtuosity here. We feel her agony.
The next cantata, "Tra l'erbe I zeffiri" ("Let the breezes blow peacefully") reveals Vendittelli prodigious vocal technique. Vivaldi's coloratura often requires rapid glottal articulation. If done poorly, this can sound disastrous. In some cases, it can sound like chickens squawking. But on the word "mormori" ("murmurs") she uses this technique brilliantly. The aria "Nel mar la navicella" ("A bark at sea") reminds me of the vocal fireworks of "Agitata de due venti" from Griselda. When love is at last reciprocated, suffering is forgotten.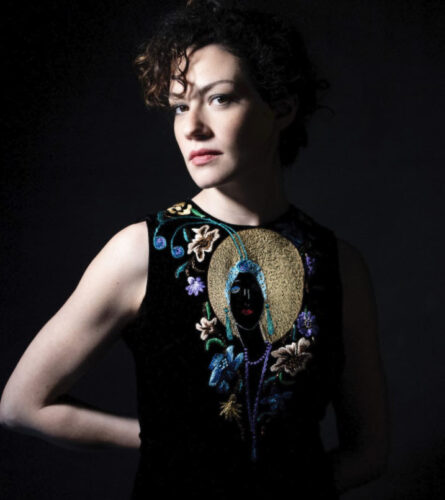 "Sorge vermiglia in ciel la bella Aurora" ("Lovely dawn rises crimson in heaven") opens with a recitative in which the phrase "Quando tra l'ombre" ("When amid the shadow") is sung on two notes, a C and an F, a leap of an octave and a half. This is literal text painting with a descending interval to show the depth of darkness.
The aria that follows is full of large ascending and descending leaps. Vivaldi is literally making the singer sob and sigh. She never sounds labored in singing these technical extremes. During Vivaldi's lifetime, German theorist Johann Matteson proposed that fury may be stirred by angular harmonies with a fast melody. We hear this in the chromatic aria di furore, "Ardi svena, impiaga, atterra" ("Brun me, slaughter me, wound me, tell me"). These high soaring melodies also descend to almost a growl.
I want to hear emotions that are visceral—not clean and pristine, trying too hard to be "historically informed." In this aria, as throughout the CD, Vendittelli delivers passion and boldness. Her low notes are sung with plenty of chest voice in the mix, and I am convinced of her rage as a shepherd whose love endures through much suffering.
Love as an inevitable force that draws lovers together is set in "La farfaletta s'aggira al lume" ("The butterfly flits around the light"). The harpsichord evokes the fluttering of butterflies in flight. After the previous diptych of contrasting cantatas with such strong emotions, this cantata feels like a palette cleanser. Vendittelli sings with lovely legato lines spun with shimmering vibrato.
The light and dance-like mood of the final cantata, "Si levi dal pensier" ("Let me drive from my thoughts"), completes a love journey full of angst, passion, and ultimately, happiness. This is Abchordis Ensemble's first foray into recording vocal music. Paired with a soprano of Vendittelli's dazzling technique and emotional depth, it's how I want to hear Vivaldi cantatas: inventive and human.
Soprano Wanda Yang Temko is a singer, actor, voice teacher, and arts advocate in the Atlanta area. She holds a doctorate in performance from The Jacobs School of Music at Indiana University Bloomington.
Recent EMA Recording & Book Reviews
Emily Zazulia's valuable 'Where Sight Meets Sound: the Poetics of Late-Medieval Music Writing' explores notational aesthetics in polyphonic music, where it's not obvious how you're meant to sing what's on the page.
Long undervalued, Alessando Scarlatti's vocal writing naturally weds singable lines with the Italian language. Ars Lyrica Houston's colorful new recording of a Scarlatti oratorio, with an outstanding cast, makes a brilliant case for this rarely heard music.
On their latest stellar recording, the Suspicious Cheese Lords focus on Palestrina's 'Missa Illumina oculos meos,' and the lengthy motet by Andreas de Silva on which it's based. World premiere recordings, beautifully sung.