by
Published January 5, 2018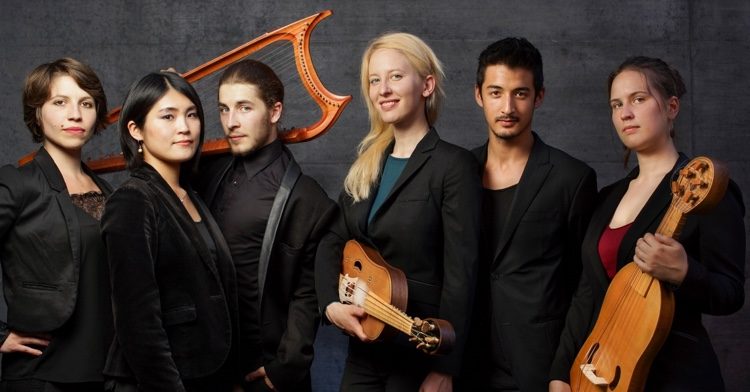 Parle Qui Veut: Moralizing Songs of the Middle Ages
Sollazzo Ensemble
Linn CKD 529
By Karen Cook
CD REVIEW — Envy. Slander. Disloyalty. Betrayal. Vanity, weakness, garrulousness, musical abuse, even bad parenting. Such are the moral issues debated in the collection of late medieval works presented on this album.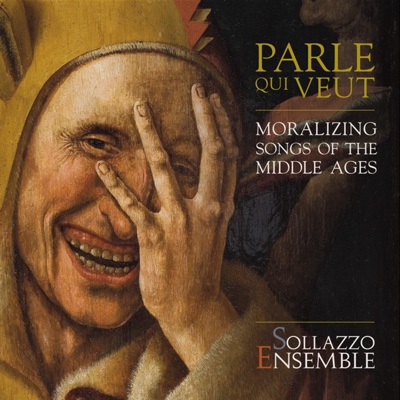 The Sollazzo Ensemble, consisting of two sopranos, one tenor, two vielles, and harp, is a rising star in the world of early music. They won the 2015 York Early Music International Young Artists Competition, the partial result of which is this, their debut album. As the title states, their program comprises pieces that offer some kind of moral commentary, a popular topic in the 14th and early 15th centuries. They have created their program primarily from Trecento repertory circulating around Florence in sources such as the Squarcialupi Codex, complemented by French selections from the Chantilly Codex and other fragmentary sources. Not only do the pieces vary in language, but also in compositional style, topical attitude, instrumentation, and interpretive approach, creating a wonderfully varied yet cohesive recording.
Much of the attention this album has received has been given to the three vocalists, and deservedly so. Sopranos Yukie Sato and Perrine Devillers blend beautifully, and whether singing together or solo, attack the complicated rhythms and melodic flourishes with an enviable musical and rhetorical unity. Devillers somehow manages to create a seemingly effortless unbroken melodic line while spitting out the crispest of consonants on the anonymous title track, a feat repeated by all three singers on the positively boisterous "Dal Traditor" and "Cacciando per gustar," while Sato practically dances around the quick embellishments in Paolo da Firenze's "Perché vendecta." Tenor Vivien Simon stands out in particular on their delicious rendition of Solage's "Le basile." Along with the vielles, he slides sinuously between pitches as though he were the basilisk itself.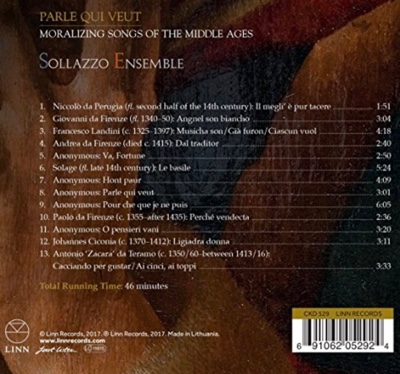 Taken together, their rhythmic flexibility, pure intonation, and unified articulation are exceptionally well suited to the complexities of this material. So too are the instrumentalists, who play with great sensitivity not only to the individual pieces, but also to the singers, when accompanying. While the delightfully warm, crisp acoustic allows for all parts to shine forth equally, the instruments are never obtrusive, nor do they obscure the text or each other. Instead, they create an exceptionally well-balanced sense both of melodic line and harmonic support. The vielles wind about Simon in "Le basile," while the harp punctuates the musical texture in the opening track, Niccolò da Perugia's "Il megli' è pur tacere; in the few instrumental tracks, such as Ciconia's "O pensieri vani," the three play with superb command.
This is an exceptional performance; it is full of vitality and enthusiasm, facility and flexibility, and clearly grows out of both deep knowledge and sincere enjoyment of this music. It is an excellent introduction, or addition, to late medieval secular song, and a debut to be commended. The Sollazzo Ensemble is one to keep your eyes and ears on, to be sure.
Karen Cook specializes in the music, theory, and notation of the late medieval and early Renaissance periods. She is assistant professor of music at the University of Hartford in Connecticut.
Recent EMA Recording & Book Reviews
Emily Zazulia's valuable 'Where Sight Meets Sound: the Poetics of Late-Medieval Music Writing' explores notational aesthetics in polyphonic music, where it's not obvious how you're meant to sing what's on the page.
Long undervalued, Alessando Scarlatti's vocal writing naturally weds singable lines with the Italian language. Ars Lyrica Houston's colorful new recording of a Scarlatti oratorio, with an outstanding cast, makes a brilliant case for this rarely heard music.
On their latest stellar recording, the Suspicious Cheese Lords focus on Palestrina's 'Missa Illumina oculos meos,' and the lengthy motet by Andreas de Silva on which it's based. World premiere recordings, beautifully sung.