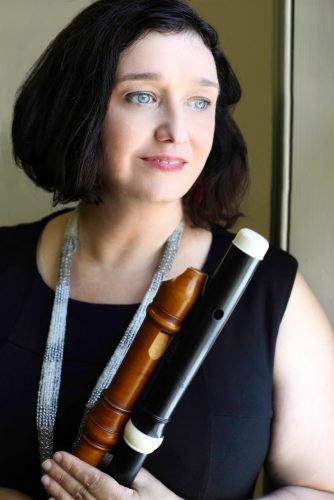 Gwyn Roberts will receive the Thomas Binkley Award for outstanding achievement in performance and scholarship by the director of a university or college early music ensemble for her work with the University of Pennsylvania's Early Music Ensemble and students at the Peabody Institute and Amherst Early Music.
"I am thrilled and honored to receive this award," said Gwyn Roberts. "As a high school student, I wore out my LPs of Thomas Binkley's ensembles, fascinated by the idea of reviving music that hadn't been heard for centuries. That spirit of exploration and rediscovery has infused every part of my professional life, both as a performer/director and as an educator, making this particularly meaningful. Thank you to the EMA board and to my colleagues who nominated me."
Mark Rimple, Professor of Music at the Wells School of Music at West Chester University of Pennsylvania, praised Roberts for her dedication to the high-level training of young musicians at many institutions. "Her respectful and intelligent encouragement of musical citizenship sustains both her contributions to early music education and her world-class performing career, especially her co-directorship and dynamic performances with Tempesta di Mare. I am so pleased to see my mentor, friend, and colleague Gwyn recognized for her incredible generosity and professionalism."
The award is named for the legendary lutenist and educator Thomas Binkley, who taught at the Schola Cantorum Basiliensis, made groundbreaking recordings with the Studio der Frühen Musik, and served as founding director of the Early Music Institute at Indiana University.
Gwyn Roberts is one of America's foremost performers on recorder and baroque flute, praised by Gramophone for her "sparkling technique, compelling musicianship, and all-around excellence." She is co-founder and co-director of Tempesta di Mare, the Philadelphia Baroque Orchestra, recently hailed by the Miami Herald as "the model of a top-notch period orchestra." She serves on the Historical Performance faculty of the Peabody Conservatory of Johns Hopkins University and has been Director of Early Music Ensembles at the University of Pennsylvania for 27 years.
Solo engagements include the Portland Baroque Orchestra, Chamber Orchestra of Philadelphia, Recitar Cantando of Tokyo, Washington Bach Consort, and the Kennedy Center. She has recorded for Chandos, Deutsche Grammophon, Dorian, Sony Classics, Vox, PolyGram, PGM, and Radio France. Her latest solo recordings include the Fasch Recorder Concerto in F, Bach's Concerto in G after BWV 530, and Sonatas by Francesco Mancini. She enjoys collaborating with modern composers, recently recording James Primosch's Sacred Songs and Meditations with the 21st Century Consort for Albany Records.
Her ensemble, Tempesta di Mare, is entering the 20th season of its Philadelphia Concert Series. It tours from Oregon to Prague, recently released its 12th CD on the British label Chandos, and reaches audiences in 56 countries with broadcasts of live performances. Tempesta specializes in deep dives into lesser-known repertoire. The group has performed dozens of modern premieres and stands in the vanguard of revivals of music by Fasch, Janitsch, and Reutter.
Roberts is an enthusiastic educator with a thriving private studio and recent masterclasses at the Curtis Institute of Music, Hartt School of Music, and Oregon Bach Festival. In addition to her faculty positions at Peabody and Penn, she teaches regularly at the Amherst Early Music Festival, Mountain Collegium, and other workshops. A graduate of Bryn Mawr College, Roberts holds a Performer's Certificate from Utrecht Conservatory in the Netherlands, where she studied with Marion Verbruggen, Marten Root, and Leo Meilink. In between gigs, she loves to cook. You should try her Peach Pavlova.
---