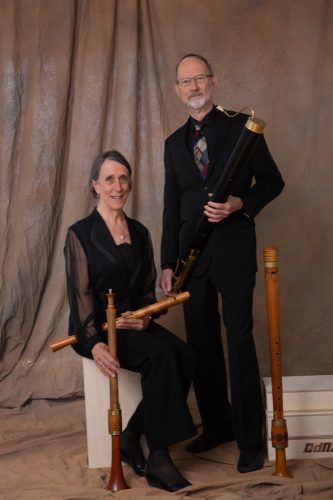 Joan Kimball and Robert Wiemken, founders and co-artistic directors of Piffaro, The Renaissance Band, will receive the Howard Mayer Brown Award for lifetime achievement in the field of early music. The award is named in memory of the renowned and beloved University of Chicago musicologist Howard Mayer Brown (1930-93), whose scholarship covered a wide range of subjects on the music of the Renaissance, especially the chanson and instrumental music, and frequently returned to problems in historical performance practice, a subfield in which he was one of the most important commentators.
"What an honor to receive the Howard Mayer Brown Award, following in the footsteps of so many distinguished early music colleagues who have received it in the past," said Kimball. "Bob and I couldn't be more grateful to EMA and to all who nominated us, and we hope that what we have built with Piffaro over 40 years can be a model for others who wish to pursue this crazy and wonderful path!"
Wiemken said it's "a very special honor for our work to be recognized in this way and very gratifying to know that the work and the music has been appreciated these many years. I've been privileged to have been able to work with so many wonderful and talented people over those years, especially my fellow members of Piffaro, who deserve so much credit for the success of the ensemble."
Piffaro colleagues are effusive in their praise of Kimball and Wiemken. Singer, multi-instrumentalist, and teacher Grant Herreid, recipient of EMA's 2013 Laurette Goldberg Award, said the Piffaro co-directors "have brought the beauty and appreciation of Renaissance music to audiences throughout the U.S. and abroad. And through countless workshops and other outreach, they have been as influential in fostering early wind playing among students and amateurs as anyone in the world. Their inspired programing and Piffaro's many top-quality recordings have influenced Renaissance practitioners around the world."
Trombonist and recorder player Erik Schmaltz hailed Kimball and Wiemken's ability to devise programs that "are thoughtfully researched, well put together, and whose historical performance practice is always considered. Adding to that the wide range of instruments that they have collected, maintained, transported, and in some cases on which they have trained group members, and I think they occupy a singular space in the recent history of the early music revival in America."
Longtime Piffaro trombonist Greg Ingles said that in addition to the concerts around the world and numerous recordings they have made possible, Kimball and Wiemken "are avid workshop teachers and, with their Advanced Loud Band Intensive courses at the Madison Early Music Festival have given the next generation of professional early wind players the methods and means to keep these instruments alive and performing in the U.S."
Recordist, oboist, and Renaissance instrument wind player Priscilla Herreid said she is honored to succeed Kimball and Wiemken as Piffaro artistic director after the 2021-22 season. "Their tireless efforts as both artistic directors and collaborators with instrument builders have resulted in advancements in the design of early double reed instruments and singular programming that plumbs the depths of the repertoire, changing the global perception of what these instruments can do."
Bios: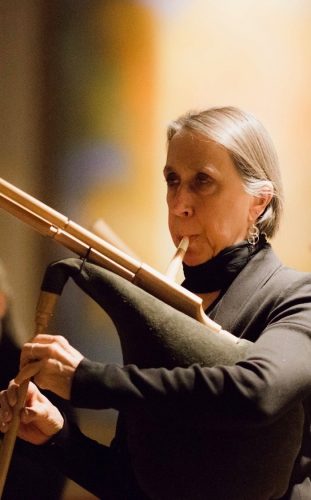 Joan Kimball has concertized with the ensemble throughout the U.S., Europe, and South America, and has performed with many of the leading early music artists and ensembles in this country. With Piffaro she has recorded for Newport Classics, Deutsche Grammophon Archiv Produktion, Dorian Recordings and PARMA/Navona, and in addition can be heard on the Vanguard, Eudora and Vox Amadeus labels.
Joan has always been involved in education and was a teacher in the Philadelphia Public School System before giving full time to early music performance in 1980. She has a studio of young players and adults at home in Philadelphia and organizes Piffaro's educational programs, including its annual Recorder Fest for elementary and high school recorder players. Widely known in the early music community as a teacher of recorder, early double reeds and bagpipes, she has been on faculty at early music festivals and workshops across the country, including the Madison Early Music Festival, the Indiana Early Double Reed Workshop, Amherst Early Music, San Francisco Early Music Recorder Workshop, and Hidden Valley Early Music Workshop.
In addition, she has collaborated with instrument maker Joel Robinson on the construction of Medieval and Renaissance bagpipes and makes double reeds for shawms, dulcians, and capped winds. One of her specialties is refurbishing sets of krumhorns, replacing old plastic reeds with more authentic cane ones.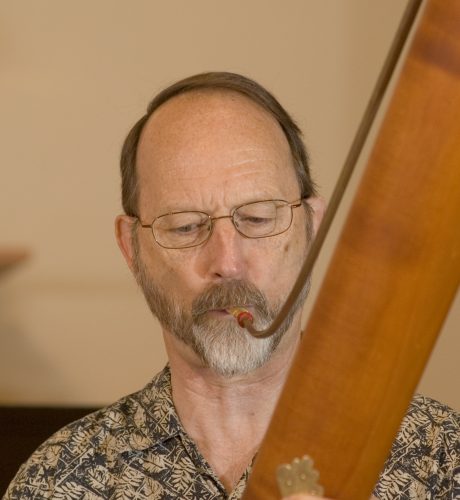 Bob Wiemken began musical life as a French hornist and continued pursuing modern brass for some 18 years. Eventually, he leapt at the chance to begin playing early double-reed instruments in the Collegium Musicum while a graduate student in Classics at the University of Pennsylvania. That began a long love affair with medieval through early Baroque double-reed instruments that has only crescendoed over the past 39 years of playing, exploring, studying, maintaining, servicing and, above all, making reeds for shawms, dulcians, bassoon, krumhorns, douçaines, and more for himself and many others.
As Artistic Co-Director of Piffaro, The Renaissance Band, he has performed worldwide, recorded extensively, built over 150 programs of Renaissance and early Baroque music and commissioned new works for early winds. He has performed with several of the world's leading early music ensembles in festivals in North and South America and throughout Europe and in spaces contemporary with the music that helped him define the role, sound, and capabilities of double reeds in historic performance settings. He is an eager and well-appreciated teacher and lecturer in college and university settings, having directed the Early Music Ensembles at the Esther Boyer College of Music and Dance at Temple University for 20 years, bringing the world of Medieval and Renaissance music, instruments, and practice to emerging modern players.
He is currently Instructor Scholar for Woodwinds (HIP) at Texas Tech University. He also teaches regularly at festivals and workshops throughout the country and is artistic advisor for the Madison Early Music Festival and artistic director and teacher for the Indiana Early Double Reed Workshop.
---
Acceptance video recorded June 18, 2021