by
Published March 25, 2016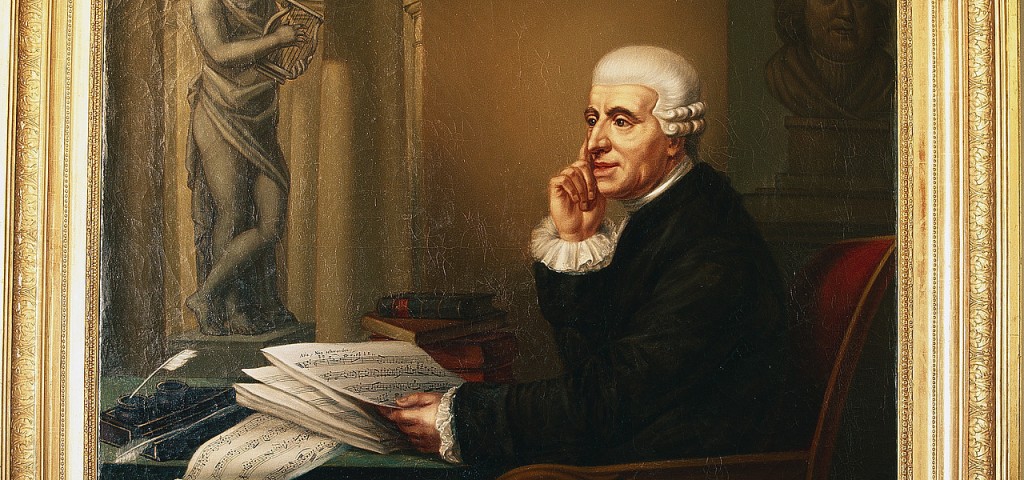 Contributed by Benjamin K Roe
It was no easy task to compose seven adagios lasting ten minutes each, and to succeed one another without fatiguing the listeners; indeed, I found it quite impossible to confine myself to the appointed limits.                       

– Franz Joseph Haydn
Next to the Christmas holidays, there is no other time of year when big, expansive Baroque works are presented in the concert hall than Eastertide, a time of year to hear Bach's St. Matthew and St. John Passions, or perhaps his Easter Oratorio.  And while not nearly as ubiquitous as they are in December, performances of Handel's Messiah at this time of year are also not uncommon.
Consider, then, a piece of almost aching stillness and intimacy that will be presented Friday and Saturday night by Boston-based early-music ensemble Sarasa: The Seven Last Words of Christ on the Cross by Franz Joseph Haydn.   
The group's name Sarasa is derived from a combination of Saraswathi, the Hindu goddess of art and culture, and the poetic Sanskrit word rasa, denoting the essence of sound.  And the "essence of sound" is what this unique piece with a fascinating history is all about. At its core, it is a solemn, sequential series of musical meditations on Jesus' final utterances.  But the effect is infinitely more powerful.  Haydn himself described the circumstances of its creation:
Some fifteen years ago I was requested by a canon of Cádiz to compose instrumental music on the seven last words of Our Savior on the Cross. It was customary at the Cathedral of Cádiz to produce an oratorio every year during Lent, the effect of the performance being not a little enhanced by the following circumstances. The walls, windows, and pillars of the church were hung with black cloth, and only one large lamp hanging from the center of the roof broke the solemn darkness. At midday, the doors were closed and the ceremony began. After a short service the bishop ascended the pulpit, pronounced the first of the seven words (or sentences) and delivered a discourse thereon. This ended, he left the pulpit and fell to his knees before the altar. The interval was filled by music. The bishop then in like manner pronounced the second word, then the third, and so on, the orchestra following on the conclusion of each discourse. My composition was subject to these conditions, and it was no easy task to compose seven adagios lasting ten minutes each, and to succeed one another without fatiguing the listeners; indeed, I found it quite impossible to confine myself to the appointed limits.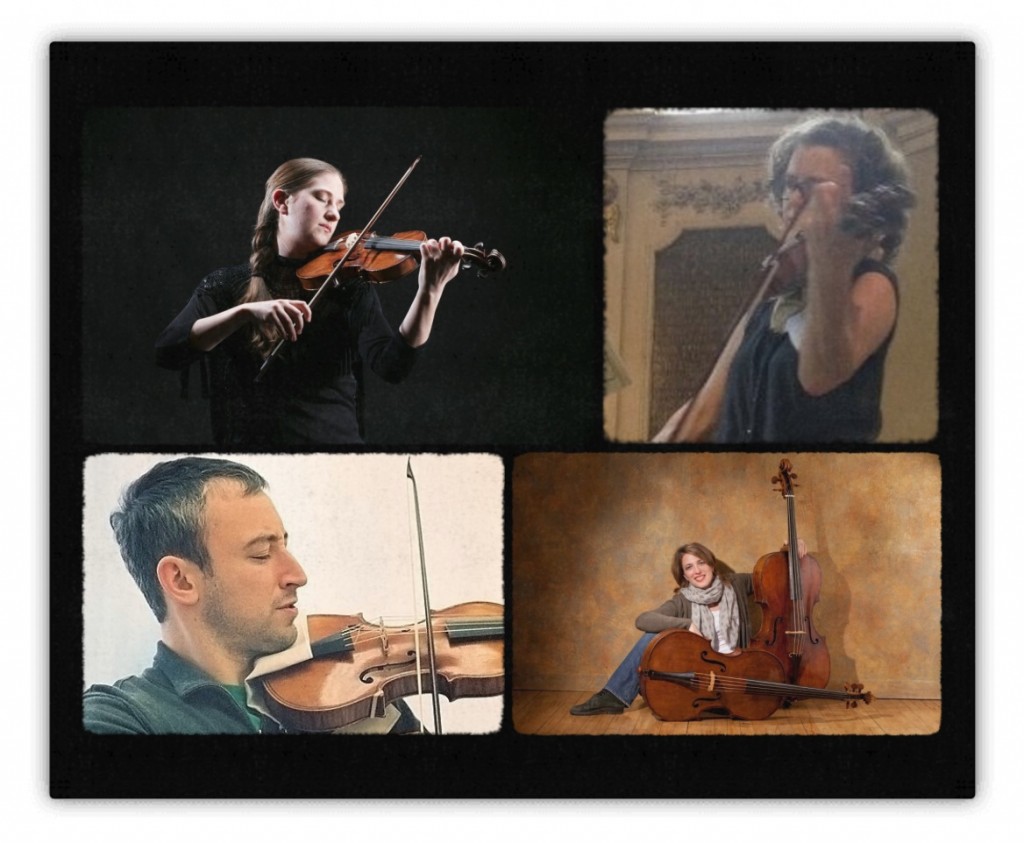 So "impossible" that Haydn actually composed an eighth "adagio" – a quiet introduction that precedes the first text, creating, in the words of Sarasa, "an intimate account [that] transmits a very direct and honest light from Haydn's understanding of human nature."  
Haydn, no stranger to big works (like his own oratorios The Creation and The Seasons)  considered this hushed instrumental piece one of his greatest achievements. His public evidently did too, as versions quickly popped up for orchestra and chorus, solo piano, and string quartet. In its oratorio version, The Seven Last Words was the last piece Haydn ever conducted, ironically on Boxing Day – December 26, 1803.
Over time, however, the version that has come to be the most enduring is the way Sarasa will perform it:  With just the four instruments of a string quartet, joined by a guest speaker. Tonight in Acton, Mass., and tomorrow in Cambridge, narrator Robert Moore will join Sarasa members Christina Day Martinson and Jesse Irons, violins; Jenny Stirling, violin; and Jennifer Morsches, cello. Why is this version popular? Radio host James David Jacobs explains:
It must be said, however, that the main reason for the quartet version's dominance is that string quartets love playing this piece. Colin Hampton, the cellist of the Griller Quartet, likened it to Bach's St. Matthew Passion; it's unique in the quartet repertoire, a large-scale classical work with spiritual overtones that can be adapted to a variety of performance situations. Many quartets find some way to create a simulacrum of a church service by having speakers say a few words pertaining to the particular word before each movement.
No ensemble in modern times has done more to amplify Haydn's quiet message than the Vermeer Quartet, whose performances of The Seven Last Words during Holy Week (usually accompanied by a live radio broadcast) has been a Chicagoland tradition stretching back to 1988.  The quartet formally disbanded in 2007, but still reunites every Easter to perform this work in a context they have made uniquely their own by inviting speakers from all walks of social, religious, and political life, including the Reverend Billy Graham, actor Jason Robards, Cardinal Francis George, Bishop of Chicago; and most famously a young Chicago community organizer named Barack Obama to deliver original mini-sermons between the seven movements. The group's recording of the work in 1988, which also included a sermon by Rev. Martin Luther King., Jr. earned the group a Grammy nomination.  The "guest list" is organized and maintained by The Vermeer's violist Richard Young, who literally "wrote the book" on Haydn's masterpiece, authoring Echoes from Calvary: Meditations on Franz Joseph Haydn's The Seven Last Words of Christ in 2005. Explaining his choices of speakers this year to the Chicago Tribune, Young explains: "We've invited Jews and Hindus and fire-and-brimstone preachers to speak. We also bring in people who are not affiliated with any religious institution — people who embrace this event simply as a chance to tell their stories…..As one of our regular speakers, the well-known theologian Dr. Martin E. Marty, once told me, 'The Good Friday experience should be challenging, even difficult. It is not about being too comfortable — that comes a few days later.' "
Young has a particular moment in the Seven Last Words that he finds breathtaking, as you can witness in this video:
Tonight, WFMT will broadcast the ensemble's March 22 performance of the Seven Last Words, featuring Vermeer members Young, violinist Mathias Tacke, and violinist and founder Shmuel Ashkenasi, joined by cellist Kurt Baldwin of the Arianna Quartet.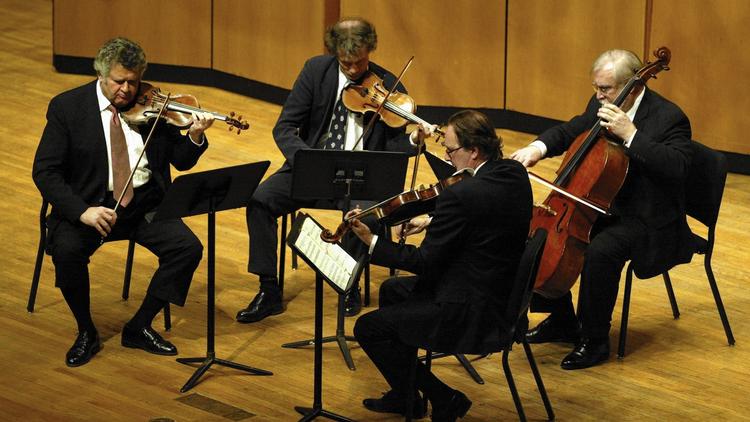 The Vermeer Quartet, in performance in 2004
For a stirring at-home performance, look no further than this full-blown and  beautifully-produced production featuring Jordi Savall and his Concert of Nations:
https://www.youtube.com/watch?v=V7TYJz4we3U
Recent EMA Features
Meet Nuova Pratica, a stylish ensemble with a progressive-retro attitude. They reject the notion that everything's already been said in the Baroque language. By re-opening the book on Baroque composition, their new works are at turns fresh, varied, and imaginative.
The innovative, cross-cultural work of Salamone Rossi, a Jewish musician at the Gonzaga court in Mantua, has long stirred controversy and strong opinion. The Bay Area's Philharmonia Baroque Orchestra will perform Rossi's 1623 'Songs of Solomon,' a set of Psalm settings in Hebrew in the Italian polyphonic style.
With the season in full swing and the holidays fast approaching, it's a good time to revisit one of the most-read EMA stories of 2023. First published in January, it's a top-10 list of "home stay" dos and don'ts. An early-music host shares his tips for making a home stay easy and low-stress for everyone. Share it with anyone who invites musicians into their house...and traveling musicians will be grateful.